Welcome
We're Jim & René @LiveWorkDream. We are full-time RVers working from the road who love sharing our story and inspiring others to follow their dreams.
Debt-free fulltime RVers since 2007!
Let us show you how we do it.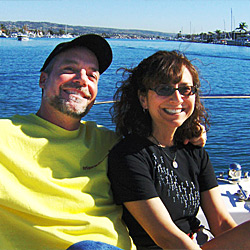 When our dog Jerry was diagnosed with bone cancer in late 2006, we quickly made plans that changed our lives forever. By June, 2007 we had sold our business, home and nearly everything we owned. We hit the road in an RV to explore the country leaving the corporate world behind – and never looked back.
Over the next three years we traveled the country in search of the next big thing. After building a couple online communities and considering various business opportunities, we realized we could never return to typical day jobs.
Perhaps you've seen us. We're the ones with the big satellite dish and websites listed all over our rig. Our travels with Jerry were featured in Nature, Why We Love Cats and Dogs which first aired on PBS in 2009.
To support the RV lifestyle we love so much, we earn our income a number of different ways…
Rene is a freelance writer and makes jewelry for dog lovers. Jim is a graphic designer and WordPress Guru. Together we manage various websites and online stores. We enjoy finding great workamping jobs, and also provide product marketing and customer education services for a global manufacturing company. Interested in working from home? Contact us for more information.
Learn How To Earn An Income Anywhere!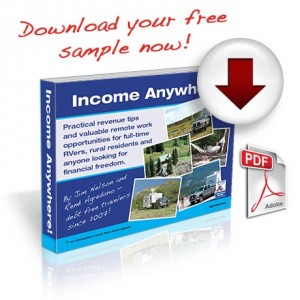 For details about everything we do, and plenty of links to resources for remote employment, working from home, selling online, affiliate blogging, and much more get our e-book Income Anywhere!
Use the Share Link for a coupon, or download the free sample chapter to learn about legitimate home based business models and the warning signs of online scams and network marketing schemes.
We operate all our businesses and help others learn to do the same, from the comfort of our own home – wherever we park it!
During the summer months you'll find us workamping in Colorado or working on our business endeavors from the mountain home we call Jerry's Acres. When the snow falls, we hit the road with new Tripawds spokespup Wyatt Ray Dawg. Maybe we'll see ya deep in the heart of Texas!
"Your time is limited, so don't waste it living someone else's life."
— Steve Jobs
Check out everything we have to offer here at LiveWorkDream or contact us today to find out how we can help you live your own dream!
Planning ahead? Learn how to prepare for the full-time RVing lifestyle!

Looking for other like-minded nomads? Check us out on NüRVers!
Visit RVBlogz.com for your own free travel blog!
Read about our workamper experience and check out Workamper News for the best workamping jobs.